When a Burnsville homeowner's basement flooded in the winter of 2017, we moved quickly to fix their basement and get their life back to normal.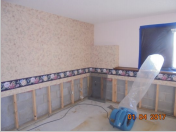 The Challenge
The homeowner had a sump basket without a pump. No sump pump was installed to move the water out of the home.
The builder-installed drain tile system filled with water and flooded their basement. As a result, the entire basement had to be gutted and new building materials installed.
The resident contacted us for a fair and competitive bid to fix their problem
Our Solution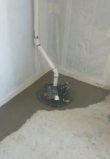 We installed a drain tile system around the perimeter of the basement, which included installing a poly vapor barrier on the foundation walls to allow any condensation that may collect on the walls to drain into the new drain tile system.
A new sump pump and battery backup system was installed to further protect their investment in their home. This system comes with a lifetime warranty, so they'll be set if any problems arise in the future.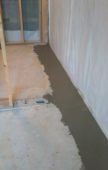 Project Summary
In two days, we installed 150 lineal feet of drain tile, vapor barrier, radon connection, and a new Pro Series S1033 Primary / Battery Back-Up Sump Pump System.
If you need help with your interior drain tile system, request a free estimate today!