In the spring of 2017, we helped Renewal by Andersen level their concrete warehouse floors to help keep production safe and efficient.
The Challenge:
Renewal by Andersen had slab curl in their concrete warehouse floors. Slab curl is the warping of the edges and corners of the concrete slab. Slab curl is commonplace in large, indoor concrete floors, usually caused by drying shrinkage during installation.
This curling creates small voids underneath concrete slab edges, leading to shifting of the slabs under forklift traffic. This movement increases damage to concrete, slows production, and is hard on equipment and personnel.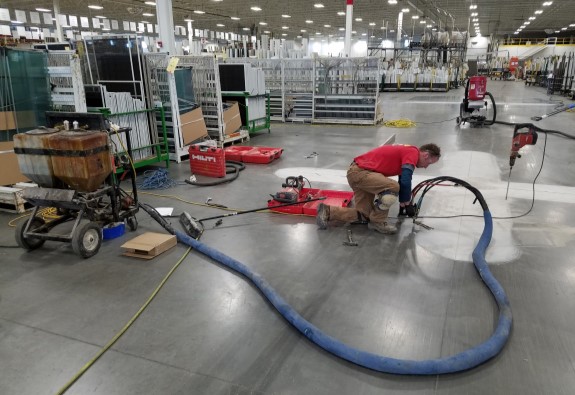 Our Solution:
Our teams began by measuring the amount of curl on the affected slabs. We then removed the exiting joint filler, drilled access holes in the concrete, and filled the voids with 5-pound structural polyurethane. This stabilizes the slabs and any loose soil beneath them.
Following polyurethane injections, we filled the construction joints with polyurea joint filler. This long-lasting repair method is quick, clean, and requires little production downtime. Forklift traffic was able to resume immediately after the reconstruction was completed.Renewal by Andersen now has a concrete floor that is level and safe for forklifts and foot travel.
If your company needs updated warehouse floors, request a free estimate today!